westell Router 7500 Details
The Westell 7500 is a high performance modem router that delivers seamless internet access for both wired and wireless connection. The device also features an 802.11b/g/n wireless signal, four Ethernet ports for multiple wired connection and a preconfigured interface. It also comes with security features to protect you from intruders.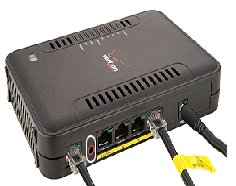 How To Setup A New Wireless Router Quick
Skip the long wireless router setup instructions with this quick and easy network install guide to get started fast.
What Is a Wireless Router
Learn what a wireless router is and how it helps you connect to the Internet at home so that you can share files, surf online, chat, or do work.
Basic Home Router Setup
Learn how to setup a basic home router so that you can access the Internet. Read about the easy steps you can take to configure the router properly.