Dynex Router DX-NRUTE Details
The Dynex DX-NRUTER is an N Router designed to work both in MAC computers and amd PC's. Equipped with a high performance firewall, the DX-NRUTE can protect your network from any hackers including Land Attack, Ping of Death, IP spoofing and many others. It also comes with integrated 10/100 4-port switch and VPN pass-through support.
DX-NRUTE Router Default
DX-NRUTE Default IP:
192.168.2.1
DX-NRUTE Default Password:
DX-NRUTE Default Username: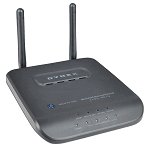 How To Setup A New Wireless Router Quick
Skip the long wireless router setup instructions with this quick and easy network install guide to get started fast.
What Is a Wireless Router
Learn what a wireless router is and how it helps you connect to the Internet at home so that you can share files, surf online, chat, or do work.
Basic Home Router Setup
Learn how to setup a basic home router so that you can access the Internet. Read about the easy steps you can take to configure the router properly.