TrendNET Router TEW-652BRP Details
The TEW-652BRP is an ideal networking device for entry level users. The device is very easy to set-up through a browser. Advanced users will also enjoy the device's capability for additional security settings such as MAC Address and IP Filter. It also comes with WPS to easily secure the network with a push of a button.
TEW-652BRP Router Default
TEW-652BRP Default IP:
192.168.10.1
TEW-652BRP Default Password:
admin
TEW-652BRP Default Username:
admin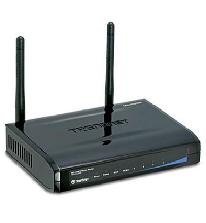 How To Setup A New Wireless Router Quick
Skip the long wireless router setup instructions with this quick and easy network install guide to get started fast.
What Is a Wireless Router
Learn what a wireless router is and how it helps you connect to the Internet at home so that you can share files, surf online, chat, or do work.
Basic Home Router Setup
Learn how to setup a basic home router so that you can access the Internet. Read about the easy steps you can take to configure the router properly.